Hi,

Yesterday Anil Margin removed one of the most knowledgeable, well informed and probably best trader from the group – Tom Bauer
This whole thing started because I think Tom posted a trade publicly on Tradingview or something and Anil deleted it claiming that he was not allowed to publicly post any ideas or trades because apparently its the groups idea not your own.
Tom got kicked out
Now look at all these cock suckers riding his dick.
Vlad knows the whole story;
Vlad doesnt know why it took Tom so long to realize; but Anil despised him since long and it was open for anyone to see. Anil was insecure of Tom since long because of Tom's knowledge. He would eavesdrop on him silently with fake zoom name whenever he was in the room and as soon as he was gone; he would come online and rant for hours that fundamentals dont work and what Tom was saying was shit. (yea Tom was making money continuously and you Anil Margin was blowing 500k account publicly LOL LOL; suck on it)
Vlad always knew it was Anil who was shit and not Tom.
Vlad respected Tom and Tom's insights always.

So Vlad was actually surprised that Tom thought Anil would give him any luxury or space being an old and valued contributor and member to his dwindling group. He had been looking to get rid of him since long.
Vlad Emails Tom:
Vlad emailed Tom to seek permission to write a story on him (as Vlad always respected Tom as a trader unlike Abidi) and Tom replied with this email.
Thanks for the sympathy Vlad, but I am that I left, really it was about time to get away from this guy.
I must say that your work revealed him as scammer. Before I thought that Anil was a good teacher if not a good trader, however, his recent (2 years) behaviour showed me he didn't want to create a group for us but rather a cult for himself.I had friends who left him before, but they were not bold enough with their thoughts, so I must thank you again.
I dont what I can add to this story? maybe the fact that I did send Anil a private msg after he deleted my original post (have you seen the original one?). I told him in a private chat that his behavior in unacceptable: 1) because we know each other for 4 years by now, so the minimum that I expect from him is to notify me when he deletes my post or at list to ask me to change it, however I had no of the above. 2) I paid him 2500$ so I demand to be treated as a client and not just like a 16 years old student who volunteered. In the end, he didnt even bother to answer, so I went to group chat and wrote what I wrote their.
Tom Trolls Anil on SKYPE :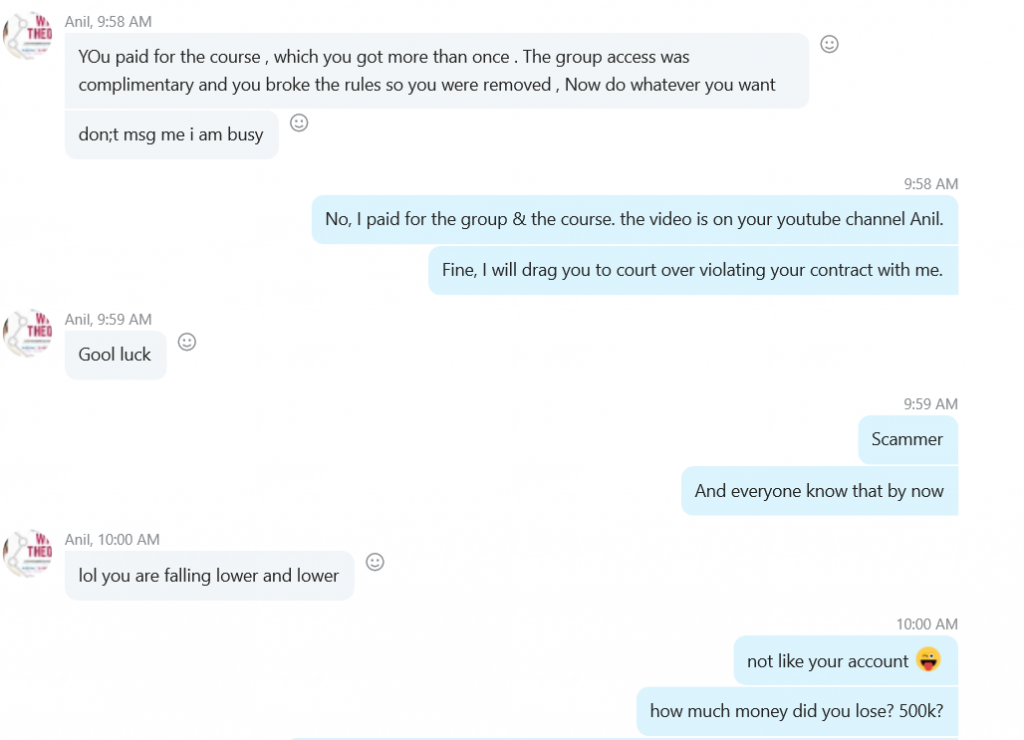 II think that you can use that. 1) Anil doesnt have a written house code, he broke TV house code, so i cant imagine that he can go and BS me about breaking his house code, no he was looking for an excuse to get rid of me.Many of the old traders wont agree with Anil, and they wont agree that I broke the house rule also, so he is just scamming his way out of this argument.
At list I got to score a joke on him XD
Vlad's Analysis
Its no surprise that Anil removed Tom; as Anil had always been jealous and insecure of Tom's popularity in ever shrinking group of Anil's traders (now only 66 left). Whenever Tom used to be in the room; people used to flock to the room and listen to him; including Vlad.

When Tom used to speak; it was like there is a trading google man talking – so well versed in detail about trades and its every aspect. When Anil speaks its like a donkey speaking who has no clue what he is talking about – asking us to short bottoms and tops – publicly blowing accounts and even losing those big trades he had been calling for years GBPCAD short LOL LOL EURNZD LOL LOL Silver LOL LOL GBPCHF lol LOl AUDNZD lol lol
Anil is insecure scamming thief whose scamming business is coming to an end thanks to Vlad, this website and the contributors of this website.

Now Vlad doesnt need to do anything; its Vlad's time to sit back and enjoy the show how Anil self-destructs his scam.
Lastly ; Vlad loved how Tom called Anil an scammer in the end of his chat in skype.. Simple awesome. Lets all send him the same message in solidarity with Tom and all those who had been brave enough to call him out on his bullshit.

Lets call a scammer a scammer and let the scammer know that he is a scammer.
Anil's ass is on fire,,,he knew traders listened to Tom,,so he wanted to block a good trader like Tom that have a good stats on his trading account. Anil needs pussy wiped traders in his group like Dejan, Isaac, Victor, Nora etc and these guys https://prnt.sc/o6u3i4 lol