SATIRE – Daily Mangal Newspaper – new article on great public demand (this is satirical article)

Dubai Al Sheikh Hotel– Former self-proclaimed best trader in the world with no proven track record, history or myfxbook account said that he created his Mangal Scam Wave theory to create awareness about the fact that his Mangal Scam Wave Theory should not be taken for the purpose of trading forex or anything else.
While speaking to a gathering in a seminar on the subject of unqualified people claiming to be doing those things which they could not do and then extorting millions of dollars from unsuspecting victims, the former best trader in the world (self proclaimed) said that he was grounded and humbled by how much awareness his blown EUR 500,000 trading account has created.
"I was sitting one day and I thought, hey, why don't I help people in trading? There are too many suckers out there with money willing to lose it. Who fall prey to scammy forex trading gurus on youtube and tradingview claiming to know stuff and edge over market whereas in reality they are just pissing people off their hard earned money. That's where I decided I must create my Mangal Scam Wave Theory," he told the audience.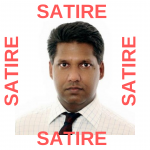 "In that regard, the Mangal Scam Wave Theory has caused a great awareness that Mangal Scam Wave Theory cannot be traded. It's something I realized the very minute I started trading, but I wanted to provide evidence and proof to those who want to trade or, indeed, those who do not want to that my Scam theory doesn't work," he added.
"It was tougher than I originally had thought; I had to steal pieces of different stuff from here and there and make an amalgam of a trash which doesn't work and at the same time hoping that my students didn't find out that I was stealing pieces of different theories and other people's work; without any credit to them" he said. " But some f*ckers still found out". He sighed.
Mangal was invited to speak to the audience after famously and publicly blowing his EUR 500,000 investor's account while trading live and then hiding away under the rock for three straight weeks.
"The experience has been amazing; I enjoyed a little side-effect boon of little over US$ 2.5 millions which I received from suckers on youtube and tradingview; but this is what you get when there are so many sheep in the world and only so few wolves like me; but hey at least I proved what I originally set out to achieve"
The former best trader in the world further added that the Scam wave theory created awareness in other realms as well.
"About how mentors aren't doing the work they are supposed to do, how senior traders take popular and easy routes of selectively showing their winning accounts in public in trading room (and cleverly hiding the losing accounts) and the overreach targeting the victims for max damage that how the victims should give mentors their accounts to trade for 50 percent profit sharing, and more importantly about people trying to do jobs which they have no qualification or jurisdiction for – which I believe is the reason you guys have asked me to speak here," he said.
From our Daily Mangal Correspondent
..
.